Need Cold Storage in South Carolina? We Can Help!
Looking for a long term or short term cold storage solution in South Carolina? Portable Refrigeration Storage has been around for over 25 years, providing the highest quality portable cold storage and refrigerated storage in the industry. We have what you need, whether it is a refrigerated storage trailer, refrigerated storage container, walk-in cooler, or walk-in freezer! We want to meet the needs of our customers in South Carolina with quality cold storage and excellent customer service.
I bet you didn't know that South Carolina is the nation's leading peach producer and shipper east of the Mississippi River. By freezing peaches, you can prolong their lifespan and make them last for about 10-12 months. PRS is a leading provider of cold storage in Columbia, Greenville, Spartanburg, and throughout the state of SC. We'd love to hear about your cold storage requirements and help you find the best cold storage solution for your business.
Does your business require cold storage? Refrigerated containers are great for temperature sensitive, frozen or chilled products. Restaurants can always use a cold storage solution to add additional capacity during peak seasons and to help their business grow without having to deal with the cost of remodeling. Grocery stores can see value in portable refrigeration storage for seasonal peaks driven by holidays. In some parts of the United States, refrigerated containers are used to store ice for concrete pours to optimize the strength. The possibilities are endless!
One popular option with our clients is our 20' walk-in coolers and freezers. They are compact enough to fit into a parking space but provide an ample amount of space for storage. They easily maintain a temperature between 0˚F and 40˚F. The "all electric" cooling system is a more affordable alternative to diesel trucks or trailers. They use less energy and are better for our environment, not to mention they are much quieter. There walk-in accessibility and portability make them a very popular choice with South Carolina businesses, especially those in the food and beverage service industry.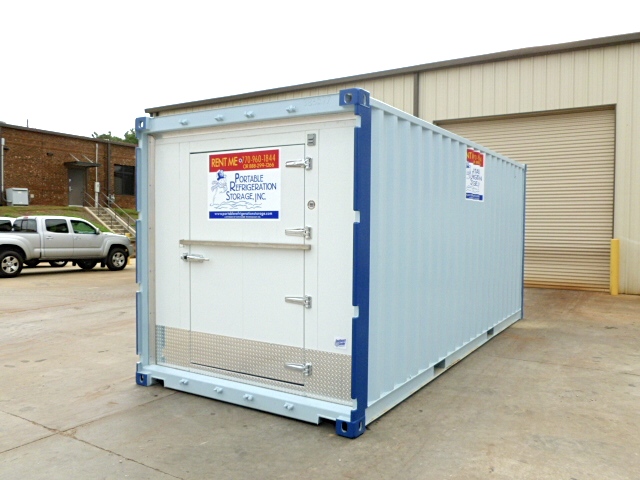 PRS has various types of portable cold storage options to meet the variety of applications. PRS of South Carolina also offers refrigerated storage trailers and refrigerated storage containers in both 20' and 40' sizes. We can deliver your refrigerated trailer or container quickly and hassle free.
Call PRS today at (888) 939-5820 and let us set up your South Carolina business with the perfect cold storage solution. You are also welcome to complete an online quote request. Our skilled team of refrigeration experts with a combined 75 years in the industry is eager to put our knowledge to work for you!
Written on September 28, 2016