Rent Michigan's Best in Portable Cold Storage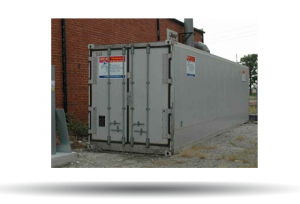 Portable Refrigeration Storage, Inc. (PRS) has the product to satisfy your cold storage needs today! Founded in Atlanta in 1988, we provide the very finest in portable cold storage to Lansing, Ann Arbor, Flint, and Saginaw, MI, as well as their surrounding counties.
Whatever your unique needs, PRS has the right cold storage option for you. We rent 20′ walk-in coolers, 20′ walk-in freezers, 40′ refrigerated containers, and 40′ refrigerated trailers for a wide variety of applications throughout all of south and central Michigan. All PRS products use electric cooling systems developed by Carrier™ or Heatcraft™. Electric systems are quieter, safer for the environment and will cost you less than the diesel alternatives.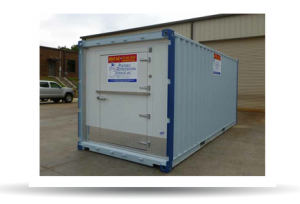 Our 20′ portable walk in coolers and freezers offer Michigan businesses a temporary solution for additional on-site cold storage. Outfitted with a 50-foot power cord, our coolers can be powered by a 220V single phase power source and achieve maximum efficiency. They are NSF® approved for food storage and come standard with an exterior digital display, an interior light, emergency door release and diamond tread plate floor. These portable cold storage units are perfect for any food service or food and beverage cold storage application.
Instead of opting for a walk-in cooler or freezer, many of our customers in Michigan select a 40 ft portable refrigerated storage contain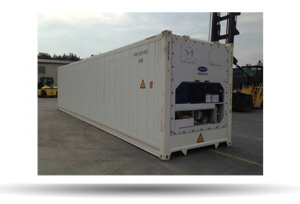 er instead. Our 40ft refrigerated containers are the ideal balance of economy and efficiency. They provide an impressive 2,832 cu. ft. of storage space and sit directly on the ground (outside your facility or inside your building). Equipped with lockable double doors on one end, our 40′ refrigerated containers offer secure storage and allow for easy ground level access. The flooring is a durable aluminum T-rail construction capable of handling pallet jack and forklift traffic. After they are delivered, all they require to operate efficiently is 230V or 460V 3-Phase power. They easily maintain a temperature range from below 0˚F and up to 75˚F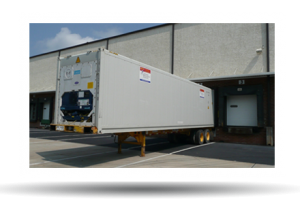 For businesses in Michigan that need dock level cold storage that is forklift and pallet jack accessible, our refrigerated trailers are the ticket. Our 40′ refrigerated trailers deliver over 2,800 cubic feet of space and a max payload of over 60,000 pounds. The refrigerated trailers feature the same temperature range and benefits as the ground level refrigerated containers. They are ideal for use in industrial environments or warehouses and can preserve anything from produce to chemical supplies to pharmaceutical products, for extended periods of time.
Contact us online for a free quote and more information on our products and services. We deliver anywhere within the Lansing, Ann Arbor, Flint, Saginaw metro areas, the counties of Eaton, Clint, Washtenaw, and many other parts of Mid-Michigan. Contact us today at (888) 939-5820 to get your portable cold storage unit delivered to you as soon as possible! One of our friendly sales representatives is standing by.
Written on December 2, 2015