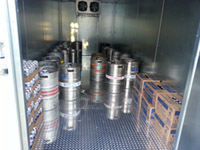 We just opened our bar and restaurant a week and a half ago. Our walk-in keg cooler could hold 45 kegs, but it turns out that wasn't enough storage for us to be able to plan a full week. We needed more walk-in storage and we needed it immediately. On Tuesday we met with our architect to design a formal walk-in build out. That evening he told us he found a portable refrigeration unit out of Atlanta who had Chattanooga listed in their delivery zone. It was the perfect band-aid while we planned and built our permanent solution. He contacted Portable Refrigeration Storage on Wednesday. They were able to juggle their schedule and got us a unit Friday. Within an hour it was already filling out.
Max – Flying Squirrel – Chattanooga, TN
This company is a lifesaver. I have rented refrigerated trailers from Ray from about a year now, sometimes needing it in a pinch or for an extended period of time and they have never let me down. They are very flexible with however long you need to use their equipment, you can run whatever cold temperature you need, and they provide great support as well. Everybody in the food service industry needs to know who they are.
Edward – Emilia Foods – Chamblee, GA
You saved our butts. When I called to inquire about getting our first refrigerated container, you were very honest and gave me the right info to be able to compare other companies' services and prices. No one came even close to being able to match what you gave us. I appreciate the timeliness of delivery to help us out in a pinch, and the immediate answers to our questions and concerns. Anytime we need temporary cold storage again, we will be calling. There is no doubt about that.
Bonnie – Hop Head Farms – Hickory Corners, MI
Portable Refrigeration Storage has been a valued supplier for Saati Americas for almost four years now. We have always had a very good working relationship with all of the folks there. Ray Gregorio and his support team are always more than willing to work with us on any special requests that we may have concerning specific requirements for the refrigerated containers or in scheduling moves, service inspections, etc. I have yet to have a problem or an issue that wasn't easily handled or made to go away once I made our needs known to Ray. These guys have switched out units for us, helped us move unit on site, and always let us know ahead of time when preventive maintenance needs to be performed on any piece of equipment. We have never up to this point lost any product because of an outage. This is a testimony to the fact that Portable Refrigeration Storage is committed to meeting their customers' needs with reliable equipment, on time delivery, and dependable service.
Steven – Saati Americas Corporation – Fountain Inn, SC
Whether it was contacting you or negotiating a contract, I found the folks at Portable Refrigeration easy and enjoyable to work with. They provided a generous amount of transparency in their product and competing options, building a sense of trust. The containers themselves were convenient for transferring product in and out, and met our temperature criteria virtually glitch free. Any service needs were met with a rapid and effective response. Thanks for your partnership.
Daniel – Michelin North America – Mountville, SC
I have dealt and done business with Portable Refrigerated Storage, Inc. for the past two years, during which time they have provided my business with excellent support in the areas of providing portable frozen storage containers. They have been responsive to our needs and any time that we have had any issues with the units Ray and his team have always been very responsive which has made for hardly any downtime with any of the units.
I can confidently recommend Portable Refrigeration as a solid and reliable supplier of the cold storage container systems.
Robert – VP/GM Performance Food Group – Rockville, SC
Portable Refrigeration Storage, has been a business partner assisting our company in meeting the needs of our business. Their staff has been professional, supportive and responsive to us. The storage system provided has been clean, reliable and just what we need.
Larry – ICS – Brooks, KY
I just wanted you to know what a pleasure it was doing business with your company, Portable Refrigeration Storage. From lease pricing to quick delivery to actual installation I give your company an A+ rating for the entire 6 month period we used the trailer in order to complete a Walk-in Cooler Installation project. Again, thank you and I am sure we will be doing business with you again.
Ramona – Creative Testing Solutions – Charlotte, NC