Alabama Cold Storage: Reefers, Walk-ins, & More!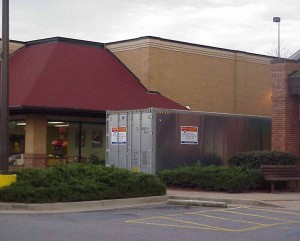 If you're an Alabama business looking for an on-site refrigerator or freezer unit you are in luck! Since the very beginning, Portable Refrigeration Storage, Inc. (PRS) has been helping Alabama businesses meet their portable cold storage requirements. PRS has been in the portable storage industry since 1988, and our employees have over 75 years combined experience. Whatever need you have, we will work to help you fill it. Our top-of-the-line rental fleet will ensure that your valuable inventory remains safe, secure, and at a constant temperature the entire time.
PRS is able to provide portable cold storage throughout Alabama state. Our rental service area covers the metro areas of Anniston, Auburn, Opelika, Montgomery, Birmingham, Huntsville, and Mobile, AL. PRS also provides service to the counties of Calhoun, Lee, Blount, Jackson, Limestone, Jefferson, Madison, Marshall, Giles, Mobile, Shelby, Elmore, Lowndes, Montgomery, St. Clair, and Walker.
If you have questions about whether your location falls within our Alabama service click here.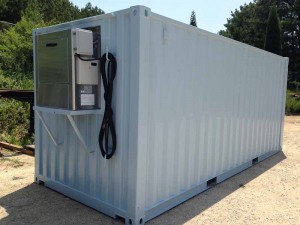 At PRS , we are committed to provide the state of Alabama with a superior portable storage product. Our entire rental fleet is state of the art and comes standard with advanced features including digital temperature controls, interior lighting, and security feature. Every portable refrigerator and freezer unit in our fleet is exclusively equipped with Heatcraft™ or Carrier™ electric systems. These electric systems are quieter, safer for the environment and your employees, and more cost effective than traditional diesel systems.
Portable refrigerated storage is cost effective, easily scalable, and efficient. Our units are highly adaptable and easy to use, with a wide variety of applications. Our Alabama customers rent refrigerated storage containers for use in agricultural processing, medical storage, manufacturing, and many other business uses. Our product line includes walk-in coolers and freezers,refrigerated containers, and refrigerated storage trailers.
Walk-in Coolers and Freezers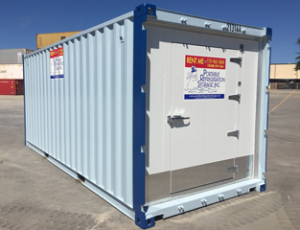 For the Alabama business in need of temporary food-grade cold storage, look no further than our 20ft Walk-in Coolers and Freezers. Our walk-in coolers and freezers provide 880 cubic square feet of storage space while being compact enough to fit into a standard sized parking spot. They come outfitted with a 50ft power cord and require only a 220V single phase power source to achieve maximum efficiency. In addition, every one of our walk-in coolers and freezers come equipped with large lockable 4' walk in door on one end, a plastic strip curtain behind the door, diamond tread plate floor (with a 600 lb per/sq ft capacity), exterior thermometer near the door, exterior digital temperature display on the cooling unit, emergency door release,and interior light.
Refrigerated Containers
Refrigerated or "reefer" containers are what we at PRS recommend to our Alabama clients when they need ground accessible storage that can accommodate palletized product.
20ft Refrigerated Container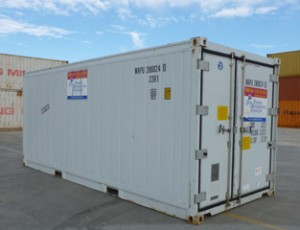 In comparison to a walk-in cooler or freezer, a 20 ft reefer container offers an impressive 1,010 cu. ft. of storage. They are delivered with only a roll back truck and take up the same amount of space—only a standard parking spot!
Every 20ft refrigerated container is equipped with lockable double doors on one end and aluminum T-rail flooring construction capable of handling pallet jack and forklift traffic. After a 20ft refrigerated container is delivered, all it requires to operate efficiently is 230V or 460V 3-Phase power.
40ft Refrigerated Container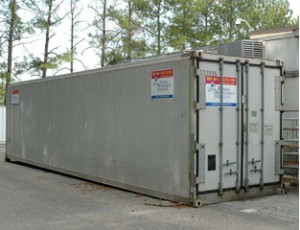 Our 40ft refrigerated containers are the ideal balance of economy and efficiency. They provide an impressive 2,832 cu. ft. of storage space and sit directly on the ground (outside your facility or inside your building). Equipped with lockable double doors on one end, our 40′ refrigerated containers offer secure storage and allow for easy ground level access. The flooring is a durable aluminum T-rail construction capable of handling pallet jack and forklift traffic. They require 230V or 460V 3-Phase power to operate efficiently and easily maintain a temperature range from below 0˚F and up to 75˚F.
Refrigerated Storage Trailers
For those Alabama customers who need loading dock accessible cold storage, refrigerated storage trailers are the optimal choice.
20ft Refrigerated Trailer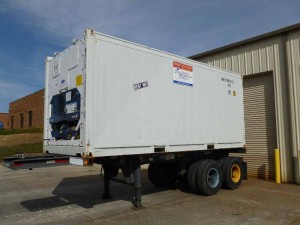 A 20ft refrigerated storage trailer provides 1,010 cu. ft. of storage space and has a max payload of over 60,000 lbs. Delivered right to you and easily maneuvered into position, every 20ft refrigerated storage trailer can hold up to eight standard pallets (single stacked) and comes standard with insulation, lockable double swing doors, and have durable T-rail flooring rate for pallet jack and forklift traffic. To get started, all you need to do is hook one of our 20ft reefer trailers to 230V or 460V 3-phase power.
40ft Refrigerated Trailer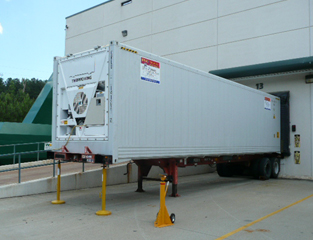 Our 40ft reefer trailers give you 2,832 cu. ft. of storage space and have a max payload of over 60,000lbs. Like the 20ft storage trailers, every one of our 40ft refrigerated storage trailers come standard with lockable cargo doors and a rugged T-rail aluminum floor. A 40ft refrigerated trailer can hold up to 18 standard-sized pallets (side by side, single stacked) and is forklift and pallet jack accessible.
Contact Us
If you are in need of a portable cold storage unit delivered in Alabama, please contact Portable Refrigeration Storage, Inc., at (888) 939-5820 for more information on our refrigerated storage options and a free quote on any of our products. Our dedicated team of professionals is always prepared to answer your questions and ensure you receive the courteous service you deserve. Our testimonials don't lie–we're the best at what we do and we guarantee you the very best as well!
Written on March 28, 2016