Need Cold Storage in Florida? We Have The Answer!
Are your on-site cold storage needs being met in Florida? With a long-standing history, Portable Refrigeration Storage, Inc., (PRS) is the number one choice and has met the needs of its clients since 1988. Our fleet portable refrigerated storage containers, walk-ins, and refrigerated trailers can meet the needs of just about any cold storage application.
If you are looking for on-site portable refrigeration in Florida, Portable Refrigeration Storage has been providing portable walk-in coolers, refrigerated trailers, and refrigerated storage containers for over 25 years. PRS wants to work with you to meet your portable refrigeration needs. At PRS, our main objectives are to provide excellent customer service and work with our customers to find the right solution.
PRS has rental service areas throughout the panhandle, north and central Florida. Our rental service areas include Tampa, St. Petersburg, Orlando, Panama City, Destin, and Gainesville to name a few. Our selection of both ground level and dock level cold storage units are ideal for both small and large businesses in Florida. For more information about our Florida service areas click here.
Whatever your unique needs, PRS has the right cold storage option for you. We rent 20′ walk-in coolers, 20′ walk-in freezers, 40′ refrigerated containers, and 40′ refrigerated trailers for a wide variety of applications throughout Florida. All PRS products use electric cooling systems developed by Carrier™ or Heatcraft™. Electric systems are quieter, safer for the environment and will cost you less than the diesel alternatives.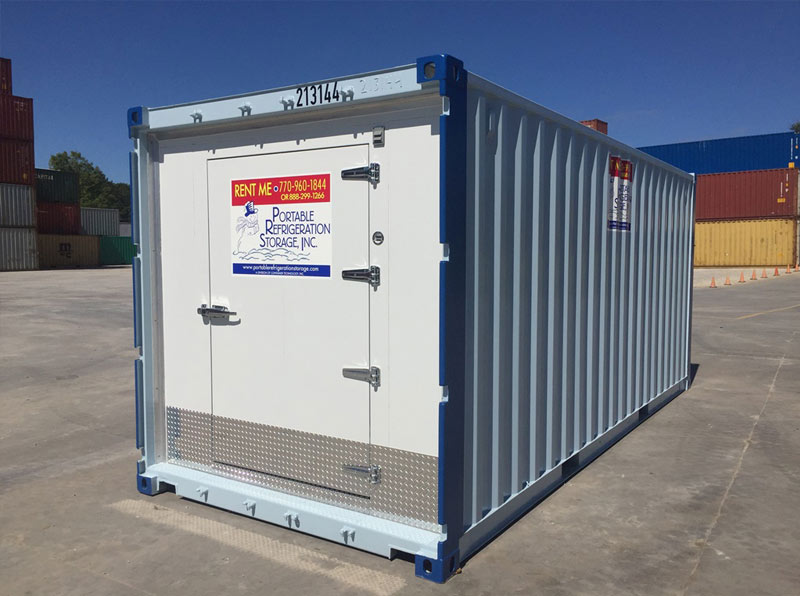 One of our most popular sizes are our 20' walk-in coolers and freezers and are an excellent option for an on-site cold storage solution. This option is perfect for your food or beverage business in Florida. Our walk-in coolers and freezers provide 880 cubic square feet of storage space while being compact enough to fit into a standard sized parking spot. They come outfitted with a 50ft power cord and require only a 220V single phase power source to achieve maximum efficiency. In addition, every one of our walk-in coolers and freezers come equipped with large lockable 4' walk in door on one end, a plastic strip curtain behind the door, diamond tread plate floor (with a 600 lb per/sq ft capacity), exterior thermometer near the door, exterior digital temperature display on the cooling unit, emergency door release, and an interior light.
For our Florida customers that are looking for larger units or who require bulk storage, we offer 40' Refrigerated Containers and 40' Refrigerated Trailers. Our larger units can be placed directly on the ground or on wheels and backed up to your loading dock. Many of our customers place them inside their warehouse for indoor storage.They come standard with an aluminum t-rail floor and have a cargo capacity over 60,000 lbs. They require 230V or 460V 3-phase power and are easily adjustable to temperatures ranging from below 0˚F to 75˚F.
Contact Us
Contact us today at (888) 939-5820 to get your portable cold storage unit delivered to you as soon as possible! One of our friendly sales representatives is standing by. We'll deliver anywhere within the communities of Tampa, St. Petersburg, Orlando, Panama City, Destin, and Gainesville metro areas. Or just check us out online for more information on our products and services and a get a free quote.
Written on June 14, 2016