North Carolina Service Area – Refrigeration Storage
North Carolina is famous for a few things, such as being home to the "first in flight" by the fathers of aviation, the Wright brothers. They made their first successful powered flight by man near Kitty Hawk, North Carolina. Krispy Kreme donuts was founded in North Carolina and NASCAR is very popular in this part of the country. You want to know what else North Carolina has now, a cold storage solution! Portable Refrigeration Storage services the great state of North Carolina. From Charlotte to Greensboro/Winston-Salem to Raleigh-Durham, we have a cold storage solution that will fit the needs of your business.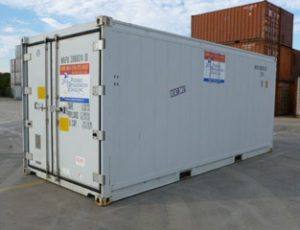 Are you a business owner in North Carolina and in need of "on-site" cold storage? If so, you know that specific types are not only helpful, but also necessary. If you're shipping or storing goods that need to be kept either frozen or chilled, a high quality operational refrigerated shipping container is essential. Maybe you are looking to expand your business but are on a tight budget, we have the answer! We offer ground level refrigerated containers, dock level refrigerated trailers, and ground level portable walk-in coolers and freezers. Perfect for farms, wineries, breweries, grocery stores, florists, schools, meat processing plants, dairy products, medical and biotech companies, and restaurants. Refrigerated storage containers are also a popular choice for general storage as well. There is no need to build a warehouse or a new cold room, just use a refrigerated container instead. Businesses can benefit from the convenience and utility that portable refrigerated containers provide. Whatever yours unique needs are, PRS has the right cold storage option for you.
Portable Refrigeration Storage offers a variety of choices when it comes to cold storage. Our 20' Walk-In Coolers and Freezers are NSF®-approved for food storage. Their walk-in capability makes accessing your perishables easy and convenient. The walk-in coolers and freezers sit directly on the ground and will fit into a standard parking space. These containers can be set at temperatures ranging from 0°F to 40°F and offer 880 cubic feet of insulated interior space.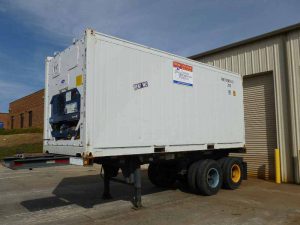 One of the more popular options is our 40' refrigerated container. The container can accommodate up to 18 standard pallets and has the ability to maintain temperature for products ranging anywhere in between 0°F and 75°F. In addition to the spacious interior, our customers also have plenty of temperature flexibility. They are equipped with a Carrier™ cooling system and have easy-to-use digital push-button controls and T-rail aluminum flooring.
Portable refrigerated storage is cost effective and energy efficient. Our units are highly adaptable and easy to use, with a wide variety of applications. Our "all electric" powered units are more cost-efficient and safer for the environment than diesel-powered trailers. The units are quieter, less costly, and environmentally friendly alternative in comparison to diesel powered refrigeration Make the "greener" less costly choice for your business and go with electric cold storage.
Portable Refrigeration Storage offers top notch commercial-grade cold storage in North Carolina. Founded in 1988, we're a cold storage provider with a combined 75 years of experience in the container industry. Let us put our knowledge to good use by helping you find the right temperature-controlled storage solution.
Call Portable Refrigeration Storage about your cold storage needs today at (888) 939-5820. One of our refrigeration specialists will be happy to discuss the options we have available and answer any questions you may have.
Written on February 9, 2017