Portable Refrigerated Storage vs. Static Cold Storage/Cold Storage Warehouses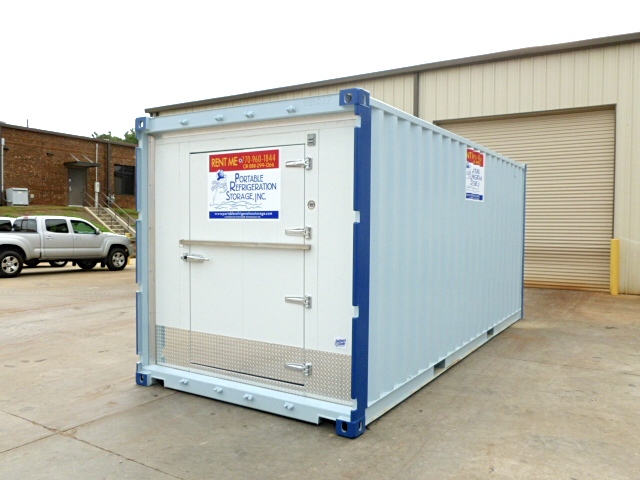 Whether you need to store food, flowers, or medical supplies, Sometimes you just need something larger than a standard refrigerator to get the job done. The inevitably necessary cold storage solution can be administered in several different ways. Based on the duration of your storage needs, you are probably considering both on and off-site storage options.
Portable refrigerated storage containers/trailers and static storage/warehouse space are two viable solutions for temporary or long term cold storage. One of the key decisions to make when considering your cold storage options is whether you should utilize a portable refrigeration storage container/trailer, or choose a static option.
Portable Refrigeration Storage, Inc has created an informative guide to help you weigh the positive and negative aspects of your storage choices: portable cold storage and off-site cold storage space. See below to learn more, and feel free to contact us by calling (678) 632-5975 in the metro Atlanta area or (888) 939-5820 anywhere else to speak personally about your needs.
Why rent a portable cold storage unit?
Portable cold storage units put your inventory in your control–making it conveniently available to you for the duration of your storage needs. Efficient and convenient, they can be delivered and moved anywhere that your business requires. Long term rental contracts are not a requirement. You return the unit when you are done. Portable units can be leased for as long as is necessary, while buying a static unit outright is an expensive commitment that could very well be unnecessary.
The convenience of portable refrigerated storage can be beneficial when you have too much inventory, due to a special promotion or any other kind of product/supply overflow. Portable refrigerated storage also comes in handy when you are permanently or temporarily moving locations and need a way to keep your goods cool while reorganizing. When the storage is on your property, it's at your disposal 24/7, making it available for access at any time.
Why lease off-site refrigerated storage space?
Renting a space in a warehouse has appeal for those who are low on overall space, providing you with space isolated from your property. However, it's important to consider the consequences that come along with separating your storage; what might seem more convenient on paper could turn out to mean a lot more work on your part.
Enlisting off-site storage invites the hassle of loading items into your vehicle, driving them to an off-site cold storage facility and then unloading your product again. Portable refrigerated storage containers/trailers bring the storage space directly to your site while you get to sit back and relax. Additionally, the movement of goods increases the risk of spoilage and damage, especially if your inventory includes perishable food items (like seafood, produce or pastries).
Written on May 8, 2014